Oroville Dam officials find new damage after water releases, as reservoir level climbs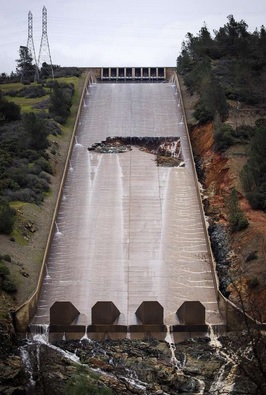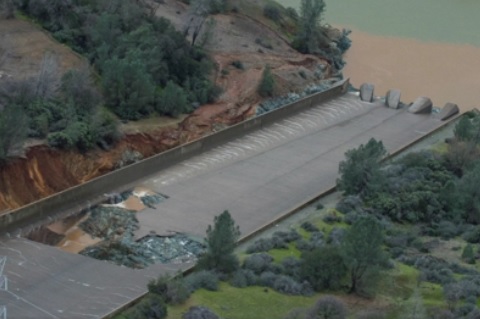 <<Water rushing over hole

NOTE: Why did the engineers purposely release more water which would obviously damage the already damaged spillway?????[SaveElsobrante}

As engineers tested the damaged Oroville Dam spillway Wednesday, Eric See of the Department of Water Resources explains what workers saw after the hole formed. Randy Pench The Sacramento Bee
By Dale Kasler, Ryan Sabalow and Phillip Reese
dkasler@sacbee.com
2/8/17
State engineers have found new damage to the Oroville Dam spillway, although not as much as they'd feared, after conducting two test releases to see how much water the scarred facility could handle, the state said Thursday. Meanwhile, reservoir levels continued to climb behind the critical flood-control structure.
The gash that was discovered Tuesday grew by another 50 feet after engineers released water for a combined six hours Wednesday and early Thursday, according to Department of Water Resources spokesman Doug Carlson. "They found additional damage to the spillway, which was predicted," Carlson said. "It wasn't as bad as they thought it might be."
Engineers were continuing to assess the situation at Oroville and planned to brief the media in greater detail at mid-day Thursday. State records show the reservoir took on another 100,000 or so acre-feet of water overnight and was sitting at around 3.2 million acre-feet Thursday morning. Lake Oroville, the state's second largest reservoir, can hold 3.5 million acre-feet.

Carlson said the first water release lasted around two hours. A second, four-hour test began late Wednesday.
The first test release began a little after 3 p.m. With dozens of engineers monitoring from strategic locations around the dam's exterior, a sheet of white water began cascading down the 3,000-foot-long spillway. Within seconds of hitting the damaged area, a crater originally estimated at about 250 feet long, a portion of the water turned into a long ribbon of mud as sediment that had been trapped inside the hole ran down the concrete spillway.
Misdirected by the jagged chunks of concrete lying in the spillway, some of the water left the chute and ran down an adjacent hill.
Department of Water Resources officials said they planned to open the spillway for more than two hours Wednesday, ramping up the water release to about 20,000 cubic feet per second. That's considered a "light spill," engineers said, and was less than half as much water as the spillway was releasing when the giant scar was discovered Tuesday and releases were shut down.
Officials said the spillway would be shut down again later Wednesday so engineers could perform a thorough inspection. They expected the test spill would cause additional erosion, but the question was whether the additional damage would be at acceptable levels.
"We'll see if anything has changed or anything has moved as far as concrete or materials that were under the spillway," said department spokesman Eric See.
The concrete spillway was built on top of rock and various soils. It sits beside the main earthen dam that holds back Lake Oroville, the second-largest reservoir in California.

Dramatic video captures break at Oroville Dam spillway as concrete chunks sent flying
Midway down the Lake Oroville Dam spillway there appears to be trouble. Along with the water, chunks of concrete can be seen flying around the 18-second mark. State engineers were expected to conduct their first inspections Wednesday morning of the damage
Beth Bello elfenvine YouTube channel
Officials with the Department of Water Resources, which operates the dam, stressed again Wednesday that they believe the dam itself is safe and doesn't pose a threat to downstream populations, a view echoed by outside experts consulted by The Sacramento Bee.
"We do not believe there's an imminent danger to the dam, or the flood control ... gates that we operate, or the public," said Acting Director Bill Croyle.
Depending on the results of the spillway test, the agency could resume water releases from the spillway, as a short-term remedy, even if it means creating further erosion in the chute. The alternative, which is considered less preferable, is to let Lake Oroville continue rising until water begins cascading in an uncontrolled fashion over the emergency spillway at the north end of the dam. The emergency spillway – which has never been used – is unlined, so water would flow uncontrolled down a hillside and onto unpopulated land filled with trees and other material that could wind up in the Feather River below the dam and pose problems downstream.
"That is a last resort," said department spokesman Chris Orrock.
Fixing the massive hole will be expensive, though it is too early to say how much it will cost, Croyle said. "Pushing water down that chute is going to continue to erode that chute," he said. "We wouldn't be surprised if by the end of this wet season, much of the lower portion of the spillway has eroded away."
With the main spillway shut off, the reservoir had taken on a whopping 174,000 acre-feet of water in the 24 hours ending Wednesday afternoon. On an average February day in recent decades, Lake Oroville would normally take in about 7,000 acre-feet, state records show.
The lake level was about 50 feet below the lip of the dam, and about 30 feet below the emergency spillway, at 2 p.m. Wednesday, state figures show. Lake levels were increasing Wednesday at a rate of about 1 foot every two hours. The reservoir remained about 13 percent empty. That's the most water the lake has contained in February at any point during the past 30 years, state records show.
Lake Oroville, in Butte County, is a central piece of California's government-run water delivery network. Completed in 1968, the 770-foot dam is the tallest in the United States. It can store 3.5 million acre-feet of water, which is divvied out through the year for agricultural and drinking water needs across a vast area of California. Much of Southern California's drinking water is stored in the reservoir.
The dam also is a critical piece of the state's flood-control infrastructure, protecting downstream communities including Oroville, Marysville and Sacramento from major flooding. The Feather River is the Sacramento River's largest tributary.
Croyle, DWR's acting director, said it was not yet clear what caused the crater to form. Three recent inspection reports for the dam – one from 2014 and two from 2015 – noted no visible signs of deficiencies along the chute.
Gary Leese and his girlfriend, Beth Bello, were among the first people this week to see that something was seriously wrong. On Tuesday morning, they hiked down the hillside adjacent to the spillway, something they'd done many times over the years. Leese said he knew something was amiss when they came upon a giant, angry splash of water instead of the normal gentle waterfall that runs down the sloping structure.
"I knew there was something up just because of the load roar it was making," Leese said. "That's when we walked a little closer and saw the plume of water coming up in the air, and we kept seeing the fragments of concrete shooting up in the air."
The couple soon was asked to leave by state employees.
After the problem was discovered, Department of Water Resources engineers gradually reduced the flows before shutting off the releases altogether. At that point, they started releasing water through smaller outlets at the dam, including a power plant. But those outlets can release only a fraction of the volume of water flowing into the lake – about 83,000 cfs at midday Wednesday. Before the damage, the lake was releasing more than 40,000 cfs.
At current rates, the agency said the lake has enough room to absorb three days of inflow. Water would pour out of the emergency spillway if the lake got too close to the lip of the dam.
The possibility of an emergency spill prompted a chain reaction among dam managers in the Feather River watershed. Officials have maxed out releases from New Bullards Bar Reservoir on the Yuba River, which flows into the Feather below Oroville Dam, said Joe Forbis, chief of water management for the Army Corps of Engineers in Sacramento. The thinking is that New Bullards may need room to capture additional runoff if water gushes down the emergency spillway.
So far, all runoff modeling points to the Sacramento Valley being able to withstand such a scenario without major flooding, Forbis said. "The flows in the Feather and the Yuba, they're well within their channel capacity, regardless of what flows are coming out of Oroville," he said.
The state also is increasing releases from Thermalito Afterbay, a small downstream reservoir, to avoid a "drastic reduction" of flows into the Feather River. That's important, engineers said, because saturated levees below the dam could slump and fail if flows are suddenly shut off.
Dale Kasler: 916-321-1066, @dakasler
FOLLOW THESE TOPICS Click or tap to customize
reprints
Related content
Oroville Dam spillway: 'It's not supposed to do that'
Wilton residents warned flooding likely along Cosumnes River
California regulators want to extend statewide drought restrictions despite wet winter
See the massive hole in the Oroville Dam spillway
Flood warnings in effect with streams on the rise and more rain expected
One more 'juicy' rain this week for Sacramento before sunny weekend
Water & Drought
Suggested for you
Comments
Sign In Using The Social Network of Your Choice to Comment
To learn more about comments, please see the Comments FAQ.









TermsPrivacy Policy Social by Gigya

We thank you for respecting the community's complete guidelines.
39 Comments
SubscribeRSS
50 minutes ago
Davi Rodrigues
On a positive side; Good gold panning ahead for a short while
ReplyShare
0
0
51 minutes ago
Barry Keller
There's a photo floating around that is supposedly from 2013 showing damage on the spillway in roughly the same spot. It would be interesting to see the report from that inspection. I've attached the link below...
https://m.facebook.com/photo.php?fbid=10154313810682584&id=573297583&set=gm.1346451402081441&source=57&refid=52&ref=bookmarks&__tn__=ER
ReplyShare
0
0
1 hour ago
Louis Silva
The article on the Oroville Dam spillway shines light on the importance of spillways in large dams. If caught in time the erosion can be repaired.

One possible cause of such concrete erosion is "Cavitation". Cavitation occurs because the high velocities along the spillway result in low pressures along the concrete surface. The low water vapor pressures lift concrete particles out of the concrete.
The pressure drop is similar to an airplane wing that lifts due to high velocity and low air pressure along the bottom of the wing.
The 1965 US Bureau of Reclamation Report HYD 510 shows the actual model studies used to design this Oroville Spillway (usbr.gov).
As a hydraulic engineer for over 40 years, Cavitation remains within the Art of engineering and science.

ReplyShare
0
0
1 hour ago
Chuck Roselli
I think they can do rock, rebar and quickset cement, and leave it out of service until they absolutely have to use it. That's what they will eventually do anyway, too late at triple the cost.
And use anti capitation runners. ( cement "bulges" parallel with water flow)

ReplyShare
0
0
2 hours ago
Dawn Wolfson
Sounds like we need to build a new spillway - last year.
ReplyShare
0
0
2 hours ago
Richard Flitcraft
This proves that the power of water pressure and erosion is immense and that nature will eventually prevail over manmade structures - the Oroville Dam that is adjacent to this spillway is probably next to give way - my suggestion is to start dismantling the dam now so as to save lives, and let nature reclaim the river that was hers in the first place....because sooner or later, time and the water pressure behind this dam will bring it down no matter how well you think it was engineered and constructed - BTW, you don't want to be downstream when it collapses...
ReplyShare3 replies
1
5
2 hours ago
E. Seward
Serious question: are you retarded?
ReplyShare1 reply
0
0
1 hour ago
Chuck Roselli
That is politically incorrect.
ReplyShare
0
0
2 hours ago
Donald Anderson
Thanks for being a "THE Sky IS Falling" person and unesscesary trying to scare people!!!!
ReplyShare
0
0
6 hours ago
Todd Schlesinger
This breaks my heart, as does the dead palms in LA, the white-out sky, the geo-engineered clouds. No...it's not a conspiracy theory. Search Weather Modification or GeoEngineering and look up. GD help us.
ReplyShare
0
1
11 hours ago
Nancy Long
Bye bye spillway. Nice knowin' ya!
ReplyShare
0
0
12 hours ago
Karen Nelson
Was this spillway not monitored? Just seems that something so critical was overlooked during dry times when repairs could have happened! Not the time for a fix and like luge it's not possible now with oh gosh.. all the water! Fail!
ReplyShare2 replies
1
0
2 hours ago
Paul Douglas
Plan Ahead? That is a concept that is absent from the government dictionary.
Expensive emergency repairs? Business as usual.
ReplyShare1 reply
0
0
2 hours ago
E. Seward
The damage wasn't visible from the top. What were they supposed to do? Break up the concrete and inspect the subgrade?
ReplyShare
0
0
14 hours ago
David Fields
Was the spillway built by CalTrans?
Every road they build is full of potholes after the first rain!
ReplyShare5 replies
4
2
14 hours ago
Dave Raines
Caldrons doesn't build the roads. Private industry construction firms do.
ReplyShare3 replies
2
0
14 hours ago
Dave Raines
Caltrans
ReplyShare1 reply
0
0
13 hours ago
David Fields
I forgot to add (snark) to the original post.
Sorry!
Share
0
0
3 hours ago
Niel Johnson
"Caltrans doesn't build the roads. Private industry construction firms do."
Yes, but somebody needs to hold them to a higher standard. What passes for finished roads is often a joke anymore. "There's asphalt between you and the dirt; we are done!" seems to be the attitude and they get away with it and get paid.
ReplyShare
0
0
5 hours ago
Jack Rothaus
I don't see any potholes on Interstate 80 from West Sac to Watt Ave. The old pavement, which will be replaced this year after the rain, doesn't count. Stop making stuff up. You sound like a liberal democrat.
ReplyShare
0
1
Show more comments
Videos
Oroville Dam spillway: 'It's not supposed to do that'
Oroville Dam spillway: 'It's not supposed to do that' 1:09
Oroville Dam spillway: 'It's not supposed to do that'
Dramatic video captures break at Oroville Dam spillway as concrete chunks sent flying 0:44
Dramatic video captures break at Oroville Dam spillway as concrete chunks sent flying
From the air, views of flowing waters suggest Sacramento region's new abundance 1:16
From the air, views of flowing waters suggest Sacramento region's new abundance
View more video
Water & Drought
As Folsom Lake fills, water releases from dam are increased to 70,000 cfs into American River
Oroville Dam spillway: 'It's not supposed to do that'
Oroville Dam officials find new damage after water releases, as reservoir level climbs
California extends emergency drought regulations despite heavy rain, snow
Sacramento Weir gates to open Wednesday night
Editor's Choice Videos
Spicer: President Standing Up for Daughter
AP
New York Knicks Legend Charles Oakley Charged With Assault For Fight At Game
Inside Edition
Tom Hiddleston Explains That Taylor Swift Tank
E! Online
Spicer: President Standing Up for Daughter
AP
New York Knicks Legend Charles Oakley Charged With Assault For Fight At Game
Inside Edition
More videos:
New York Knicks Legend Charles Oakley Charged With Assault For Fight At Game
Tom Hiddleston Explains That Taylor Swift Tank
Spicer: President Standing Up for Daughter
New York Knicks Legend Charles Oakley Charged With Assault For Fight At Game
Tom Hiddleston Explains That Taylor Swift Tank
Spicer: President Standing Up for Daughter
New York Knicks Legend Charles Oakley Charged With Assault For Fight At Game
Tom Hiddleston Explains That Taylor Swift Tank
Spicer: President Standing Up for Daughter
The Sacramento Bee | Sacbee.com
Subscriptions
Subscribe
Customer Service
e-Edition
News in Education (NIE)
Newsletters
Site Information
Customer Service
About Us
Contact Us
FAQ
Photo Reprints
Jobs at The Bee
Social, Mobile & More
Smartphone and Tablet Apps
Mobile Alerts
Facebook
Twitter
YouTube
Google+
Advertising
Place a Classified Ad
Place a Legal Notice
Place a Digital Ad
Place a Newspaper Ad
Local Deals
Shopping
Copyright Commenting Policy Privacy Policy Terms of Service